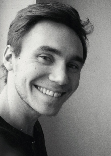 Marty Bernie
Awards
2011/12 Humber New Venture Fund Award
Marty Bernie is a young, emerging, Toronto-based composer for film and media.
He is a member of the Screen Composer's Guild of Canada (SCGC), 4th year in the Humber College contemporary music degree program, and recipient of the 2011/12 Humber New Venture Fund award for promising entrepreneurs.
Marty has worked on various short films and, through Humber, and studied been a mentee under Marvin Dolgay (President of the SCGC), Jim McGrath (Degrassi, Kids in the Hall, Republic of Doyle), Richard Evans (Glenn Martin, DDS; Rescue Mediums), and Rik Emmett (Triumph). Currently, he is working on several short film projects for Spring/Summer 2012.